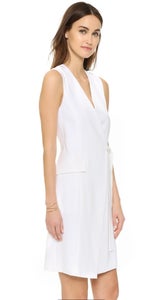 Theory-White Livwilth Soft Crepe Wrap Dress
$

95.00 - On Sale
Theory-White Livwilth Soft Crepe Wrap Dress
A modern take on the classic wrap dress. Made in signature tailored crepe for a feminine, elegant touch. Dress yours over cropped or full-length pants for a longer, leaner look. True to size. Material: 70% triacetate, 30% polyester. Dry clean. Italy. Fabric: ADMIRAL CREPE. Color: white
Original Retail Value $375 (SoldOut)
Have a question about this item?
SEND ME A MESSAGE.
FREE SHIPPING ON ALL DOMESTIC ITEMS!
PLEASE NOTE: BLACK Line through inside label to prevent store return.ALL items are 100% Authentic .We provide highly sought after designer brands at exceptionally low prices. New auctions are listed weekly, so be sure to add us to your favorite seller list.All merchandise is personally selected from high end department stores, sample sales, or designer overstocks. Some of our items are new with tags or new without boxes.